Resume Writing Guidelines for Directors / CXO Executives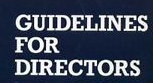 If you hold an executive position in a company then it might have been years that you updated your Resume or even looked at it. However, by doing this, you are missing several opportunities and at the same time, making your Resume outdated. You might never know when you again need your resume; it might be for simply seeking other board or non-profit positions. Just adding your experience and career history will not be enough to give a new look to your Resume or to frame a new Resume for managerial positions. What will help you in writing an executive level Resume is the following set of tips, which enumerates significant points that you should keep in mind writing the Resume.
Being a director or a CXO Executive, you are a brand already, and apart from highlighting your achievements and credentials, you should also try to enhance your brand. At executive or board level, you should put across yourself as a fitting candidate different from the rest of the bunch.
When you define your personal brand, along with other career prospects and bio, it forms the very base of your personal marketing strategy and brings a number of benefits such as:
It shows how your value differentiates from other competitors in the market.
Enable you to speak about your proposition and value with confidence
It can help you to prepare for the interview as well.
Usually directors and executives looking for their next great gig usually thinks that they can market their Resume with the help of their past roles and experiences, but the corporate world is full with such experienced executives, who put forward a long list of career details in their Resume. This calls for added attention to the point that needs more focus.
If you are at the executive level, then you might have gained a management style. This is what you should focus on while writing an executive Resume. Elucidate how your style of management is unique and how you can take up a new rile with meticulousness and power.
An executive level Resume should reflect a distinct focus, context, purpose as well as the outcome.
Focusing on outcomes, instead of achievements makes your Resume more professional. If you have accomplished any task with your strategy, like framing a sale initiative, which proved successful for your firm, then elaborate on this achievement rather than just giving the figures of your accomplishments.
If your aim is to go a level higher, then utilize your career profile to adorn your Resume. Remember that your Resume is not just a documentation of your career or educational information; it is a marketing tool, which should have the capacity of overshadowing the crowd of other CVs.
Use different kind of assumptions and apply director or executive level thinking.
You should also check out preferences of nomination committees or firms hunting for candidates suitable for executive level positions.
As far as the presentation aspect of a

Director or CXO Executive level Resume

is concerned, it should be entirely factual and should be presented in straight and simple style. Visual impact is equally important at the executive level as it is in the fresher level. Similarly, the structure is also significant and it should show a match amidst your competencies and your accomplishments as a director or executive of a company.
And if you dont have time, seek help. Resume Writing Experts understand that directors or executives do not have ample time to write or revise their Resume again. They specialize in writing Directors or CXO Executive level Resume and can get your work done in the exact way that you want.